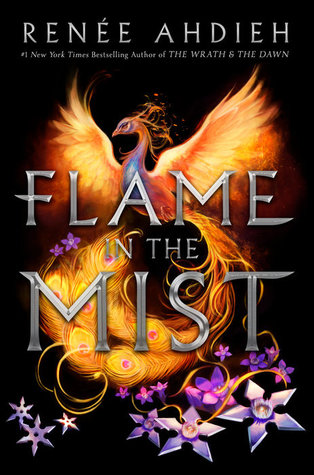 Title: Flame in the Mist by Renee Ahdieh
Genre: YA Fantasy
Length: 368 pages
Format: eARC through Penguin First to Read
Publisher: G.P. Putnam's Sons Books for Young Readers
Publication Date: May 16, 2017
Rating – 5 stars!!
The daughter of a prominent samurai, Mariko has long known her place—she may be an accomplished alchemist, whose cunning rivals that of her brother Kenshin, but because she is not a boy, her future has always been out of her hands. At just seventeen years old, Mariko is promised to Minamoto Raiden, the son of the emperor's favorite consort—a political marriage that will elevate her family's standing. But en route to the imperial city of Inako, Mariko narrowly escapes a bloody ambush by a dangerous gang of bandits known as the Black Clan, who she learns has been hired to kill her before she reaches the palace.

Dressed as a peasant boy, Mariko sets out to infiltrate the ranks of the Black Clan, determined to track down the person responsible for the target on her back. But she's quickly captured and taken to the Black Clan's secret hideout, where she meets their leader, the rebel ronin Takeda Ranmaru, and his second-in-command, his best friend Okami. Still believing her to be a boy, Ranmaru and Okami eventually warm to Mariko, impressed by her intellect and ingenuity. As Mariko gets closer to the Black Clan, she uncovers a dark history of secrets, of betrayal and murder, which will force her to question everything she's ever known.
I received a free copy of the Flame in the Mist ARC from Penguin's First to Read program in exchange for an honest review.
Flame in the Mist is set in feudal japan and follows a young girl Mariko who has been betrothed to one of the emperor's sons. On her way to meet her betrothed, her litter is attacked and she is presumed dead. Survival instinct kicking in, she escapes and due to the climate of the time, dresses as a boy in order to move around freely and embarks on a quest for revenge.
Prior to being approved an ARC, I had heard about this book and that it was a Mulan retelling. I definitely saw the Mulan similarities but this story is definitely it's very own. I loved this book. I thought it was so unique and done very well. I loved the theme of female empowerment that is woven throughout the entire book – we see this in Mariko's making her own decisions and taking her life into her own hands during a time when women were treated like property and not allowed to make their own decisions.
The romance element was simply breathtaking. In connection with that I am SUPER happy that Mariko was not the squeaky clean, pure main character that we see in a lot of stories. She was very real. She was a badass that had no problem standing up for herself and did not succumb to what anyone wanted her to be, but she also had moments where she doubted herself and her strength. Through that she always found strength within herself, which was amazing.
The writing was absolutely beautiful, this was undoubtedly one of my favorite reads of this year so far.  It does end rather abruptly but I was okay with that since I know there is going to be a second book. I felt like a lot happened in this one and the stage was set for some really big things to happen. I cannot wait for the second one and my only complaint is that I will have to wait awhile since this book won't even release until May. I definitely have a lot of questions like the magical elements we see and where this comes from and what happens with Mariko, plus a few more that I won't mention because of spoilers.
This was my first Renee Ahdieh book and now I am very interested in reading her other novels. Flame in the Mist is published on May 16th so definitely check it out!