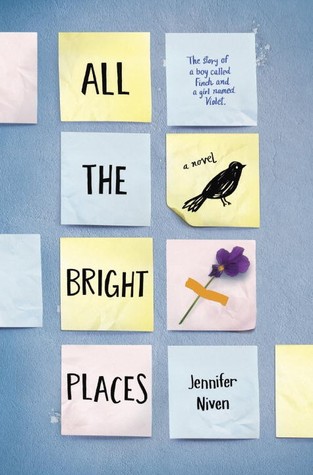 Title: All the Bright Places by Jennifer Niven
Genre: YA – Contemporary
Length: 378 pages
Format: Print – Softcover
Publisher: Knopf
Publication Date:  January 6, 2015
Rating – 5 stars
Theodore Finch is fascinated by death, and he constantly thinks of ways he might kill himself. But each time, something good, no matter how small, stops him.

Violet Markey lives for the future, counting the days until graduation, when she can escape her Indiana town and her aching grief in the wake of her sister's recent death.

When Finch and Violet meet on the ledge of the bell tower at school, it's unclear who saves whom. And when they pair up on a project to discover the "natural wonders" of their state, both Finch and Violet make more important discoveries: It's only with Violet that Finch can be himself—a weird, funny, live-out-loud guy who's not such a freak after all. And it's only with Finch that Violet can forget to count away the days and start living them. But as Violet's world grows, Finch's begins to shrink.
I decided to pick up All the Bright Places on a whim, not even having read the synopsis but I had seen the cover on Goodreads and I thought it was a really pretty cover. (Yes, I admit it. I like a really pretty cover.) I had no clue that this book was going to be made into a movie but now that I know, that makes me even happier that I finally read it so that I can prepare myself because I am pretty sure that movie is going to make me cry.
All the Bright Places is about Finch and Violet. It is told in their alternating perspectives which are very distinct from each other so the story is easy to follow. Finch and Violet meet on the ledge of the bell tower at their school. They basically talk each other off the ledge, end up getting stuck together on a school project and and find their reasons to go on living each day to its fullest in each other. Both are struggling through their own set of problems and trying to overcome them and their relationship changes both of them forever. 
I don't even quite know what to say about this or how to quite explain my feelings about it because I have a lot of them. In short, this book wrecked me. It swallowed my heart, chewed it up and spit it out crushed into tiny little pieces. There was quite a bit of ugly crying involved. 
As sad as it made me in some parts, I am really glad that I read it. I laughed, I cried, I got angry and I swooned. 
The story was beautiful and tragic and the writing was beautiful. This is my first Jennifer Niven book and I am looking forward to more of her work because she just writes so beautifully. I loved the way she wrote these characters, Finch and Violet were everything to me of course but even the side characters have some pretty great depth to them. It really reminded me that everyone struggles with something in their life, no matter how perfect they or their life seems to be and reminds me to be mindful of that in my daily interactions with people. 
This book definitely deals with heavy but super important topics like bullying, suicide, mental illness, abuse and death but I think it is done is such a great way. I honestly can't say enough good things about this book other than READ IT. It is so so so good and devastating and now I have a book hangover from it. 5 stars and I can't wait to see the movie.