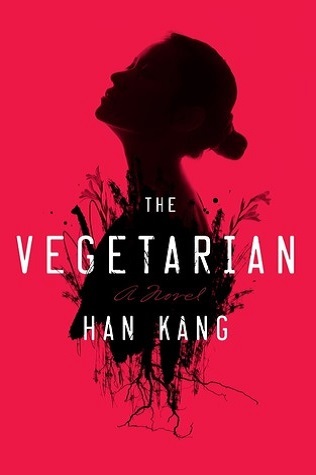 Title: The Vegetarian by Han Kang
Genre: Adult Fiction
Length: 192 pages
Format: Print – Hardcover
Publisher: Hogarth
Publication Date: February 2, 2016
Rating – 4 stars
Before the nightmare, Yeong-hye and her husband lived an ordinary life. But when splintering, blood-soaked images start haunting her thoughts, Yeong-hye decides to purge her mind and renounce eating meat. In a country where societal mores are strictly obeyed, Yeong-hye's decision to embrace a more "plant-like" existence is a shocking act of subversion. And as her passive rebellion manifests in ever more extreme and frightening forms, scandal, abuse, and estrangement begin to send Yeong-hye spiraling deep into the spaces of her fantasy. In a complete metamorphosis of both mind and body, her now dangerous endeavor will take Yeong-hye—impossibly, ecstatically, tragically—far from her once-known self altogether.

A disturbing, yet beautifully composed narrative told in three parts, The Vegetarian is an allegorical novel about modern day South Korea, but also a story of obsession, choice, and our faltering attempts to understand others, from one imprisoned body to another.
I did have a small idea of what the book was about going into it from hearing a non-spoiler review of it and I do know that this book has been praised and enjoyed by omnivores and herbivores alike, which intrigued me even more. It also won the Man Booker International Prize, which is of course a wonderful honor and I'm glad to have finally read a book that did. I need to make more of a habit of that.
The Vegetarian is told in three acts. Each act is told by a different narrator but connected by Yeong-Hye, our main character. After a dark, hellish, traumatizing nightmare Yeong-Hye renounces meat and essentially all other animal derived ingredients. This decision does not sit well with her husband and the rest of her family and as she changes, all of their lives are changed drastically as well. Interspersed throughout the sections we get snippets of thoughts from Yeong-Hye represented in Italics that give us a look into what she is going through and I really appreciated that.
It definitely was very dark and shocking. In some ways it was beautiful but also brutal and haunting at the same time. There were things in it that made me incredibly angry and then incredibly sad, which to me is evidence of some really great writing. It made me incredibly angry that she was immediately deemed crazy for her choices by literally everyone around her.
I do love the commentary that this book is making about social norms and what happens to those that "shirk" them, how they are viewed and treated by even loved ones. When Yeong-Hye decides to make this life altering change, the way she is treated was incredibly maddening and heartbreaking. As a Vegan who was for two years the sole plant based eater in my family and friends(my husband joined me after and I met my first vegan friend IRL), what our main character experiences was so far from my own personal experience BUT I have definitely heard stories quite similar in ways to how she gets treated though not as extreme as in this book. I also found it a little disturbing that Yeong-Hye pretty much withers when adopting this lifestyle change when I have only seen so many flourish and I had a hard time with that because it made me feel like people who read this book would think that is what happens to people when they make a change like this. But I think it's important to understand that Yeong-Hye and the rest of her family had some really deep rooted family issues. So there are alot of deep issues playing underneath this story – mental illness, abuse, PTSD, obsession and more.
I wasn't sure what this book could accomplish in 192 pages as that is so brief but even though it is short, it definitely packs a big punch and is definitely a book that will stay with me for a long time. This book has been translated and I think that it is one of the best translations that I have ever had the pleasure of reading since it was able to evoke such emotion and thoughts from so many people. 4 stars.
Happy reading everyone.