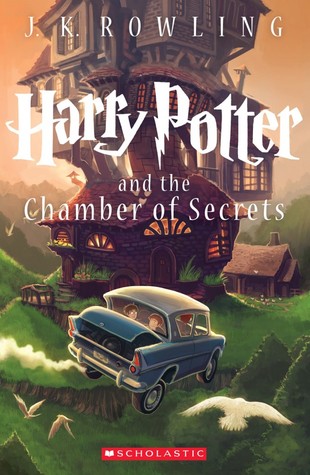 Title: Harry Potter and the Chamber of Secrets by J.K. Rowling
Genre: Middle Grade Fantasy
Length: 341 pages
Format: Paperback
Publisher: Scholastic, Inc.
Publication Date: August 27, 2013 (15th anniversary ed)
Rating – 5 stars!!!
The Dursleys were so mean and hideous that summer that all Harry Potter wanted was to get back to the Hogwarts School for Witchcraft and Wizardry. But just as he's packing his bags, Harry receives a warning from a strange, impish creature named Dobby who says that if Harry Potter returns to Hogwarts, disaster will strike.

And strike it does. For in Harry's second year at Hogwarts, fresh torments and horrors arise, including an outrageously stuck-up new professor, Gilderoy Lockhart, a spirit named Moaning Myrtle who haunts the girls' bathroom, and the unwanted attentions of Ron Weasley's younger sister, Ginny.

But each of these seem minor annoyances when the real trouble begins, and someone — or something — starts turning Hogwarts students to stone. Could it be Draco Malfoy, a more poisonous rival than ever? Could it possibly be Hagrid, whose mysterious past is finally told? Or could it be the one everyone at Hogwarts most suspects… Harry Potter himself!
I totally realize that the world doesn't need another review of any of the Harry Potter books, especially from a small blog like mine BUT I can't help it. I reread Harry Potter and the Sorcerers Stone during the latter part of December which gave me the opportunity to start 2017 off by rereading Harry Potter and the Chamber of Secrets, book two in this world famous series. Although I started the series a few years ago, I believe I got caught up in reading other books that were given to me for review so I never continued on with the series. With 2017 here, I decided it was high time to do it. It has been YEARS since I read the first two books and I had never actually reviewed them for my blog so here I am!
After reading book 1 I was excited to dig into book 2 and I absolutely loved it. It was super magical and tons of fun. I literally had such a fun time reading this book, learning more about the world and the characters, getting to sneak around Hogwarts with Harry and friends solving mysteries and dodging teachers. I found that while I enjoyed book 1, I really enjoyed book two and if each book increases in how good they are, I don't even know what I'm going to do because I already find myself getting super obsessed. All I could think about when I got off of work today was starting book 3.
One thing I loved about this book in particular was the pacing, to me it feels just right. Not too slow, not too fast. The plot and characters develop at a rate that is really enjoyable and keeps me interested in the journey. The writing is simple, easy to understand but is beautiful in its simplicity and there are quotable passages sprinkled throughout the books that give immense feels. I am sure that this increases with every book as well. I haven't been spoiled by the movies so I'm excited to see where the overall story goes and what all happens to our characters. So far, it has been an adventure! I feel like this series is what I needed to get out of a book rut that I was finding myself in so it was a good thing I started my year off with this book. I am living proof that an adult can enjoy these just as much as kid. It is so magical, so much fun and I loved this book. I am starting the 3rd tonight and I can't wait! From here, I will be reading for the first time.
I am sure everyone has read this already but if are like me and you started the series and never continued or just haven't given it a chance, definitely try it out! I gave the second book 5 stars because I just loved it. I'm also reading it with my niece and my nephew (who are young readers, reading it for the first time and just starting to discover the joys of reading ahhhh!) so that makes it extra special to me I think! I also must say that these illustrations on this particular edition are gorgeous, although pretty much all of the editions I have seen so far are beautiful.
What a wonderful way to start off the reading year!
Happy reading everyone!