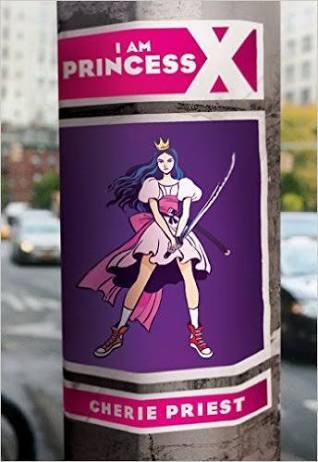 Title: I am Princess X by Cherie Priest (narrated by Mary Robinette Kowal)
Genre: YA contemporary
Length: 6 hours and 59 minutes
Format: Audiobook via Audible
Publication Date: June 12, 2015
Rating – 5 stars
Once upon a time, two best friends created a princess together. Libby drew the pictures, May wrote the tales, and their heroine, Princess X, slayed all the dragons and scaled all the mountains their imaginations could conjure.

Once upon a few years later, Libby was in the car with her mom, driving across the Ballard Bridge on a rainy night. When the car went over the side, Libby passed away, and Princess X died with her.

Once upon a now: May is sixteen and lonely, wandering the streets of Seattle, when she sees a sticker slapped in a corner window.

Princess X?

When May looks around, she sees the Princess everywhere: Stickers. Patches. Graffiti. There's an entire underground culture, focused around a webcomic at IAmPrincessX.com. The more May explores the webcomic, the more she sees disturbing similarities between Libby's story and Princess X online. And that means that only one person could have started this phenomenon – her best friend, Libby, who lives.
I don't know, I went on sort of an Audible binge in the past month and decided to listen to a bunch of audiobooks. I listened to I am Princess X, a book I knew next to nothing about when I decided to add it to cart and listen to it.
I am Princess X is about two childhood best friends Libby and May. They do everything together and most notably create a fictional character named Princess X. One day Libby disappears and later is supposedly found dead but throughout the years May has these recurring dreams that make her believe that there is more to the story. After some time passes and May is now a teenager, she randomly spots a sticker of Princess X while she is out and about in the city. With some digging she soon finds out that Princess X is somewhat of a phenomenon now, which seems impossible due to her friend, and only other person who knew anything about the character, is dead. This launches May to research the series which ultimately opens of a world of questions and leads her on a dangerous quest to find the author behind the Princess X series.
I was SUPER surprised by this book. I abso-freaking-lutely loved this book. I had no idea I would, I just decided to purchase it on a whim. I didn't look at any reviews or read the synopsis or anything. I'm really glad that I didn't do any of that because I ended up being so surprised by how much I enjoyed this story. It was really fun to listen to and I would bet that it is also really fun to read. I think that the physical copy is illustrated, it certainly looks like a gorgeous book and one that I must purchase in physical format really really soon for my shelves because it was awesome. I haven't read a book quite like this one ever. It was a really great story of love and loyalty between friends. It has a lot of things going for it: tragedy, friendship, and danger. I love the scavenger hunt aspect to the story and just the idea behind it was really unique and interesting. Five stars! Loved this book, highly recommend it to anyone who is even remotely a fangirl or into graphic novels or anime. This was a really fun book and I can't wait to buy a physical copy! I read that the author has written more books so I am going to look into those!